FREE SHIPPING NATIONWIDE!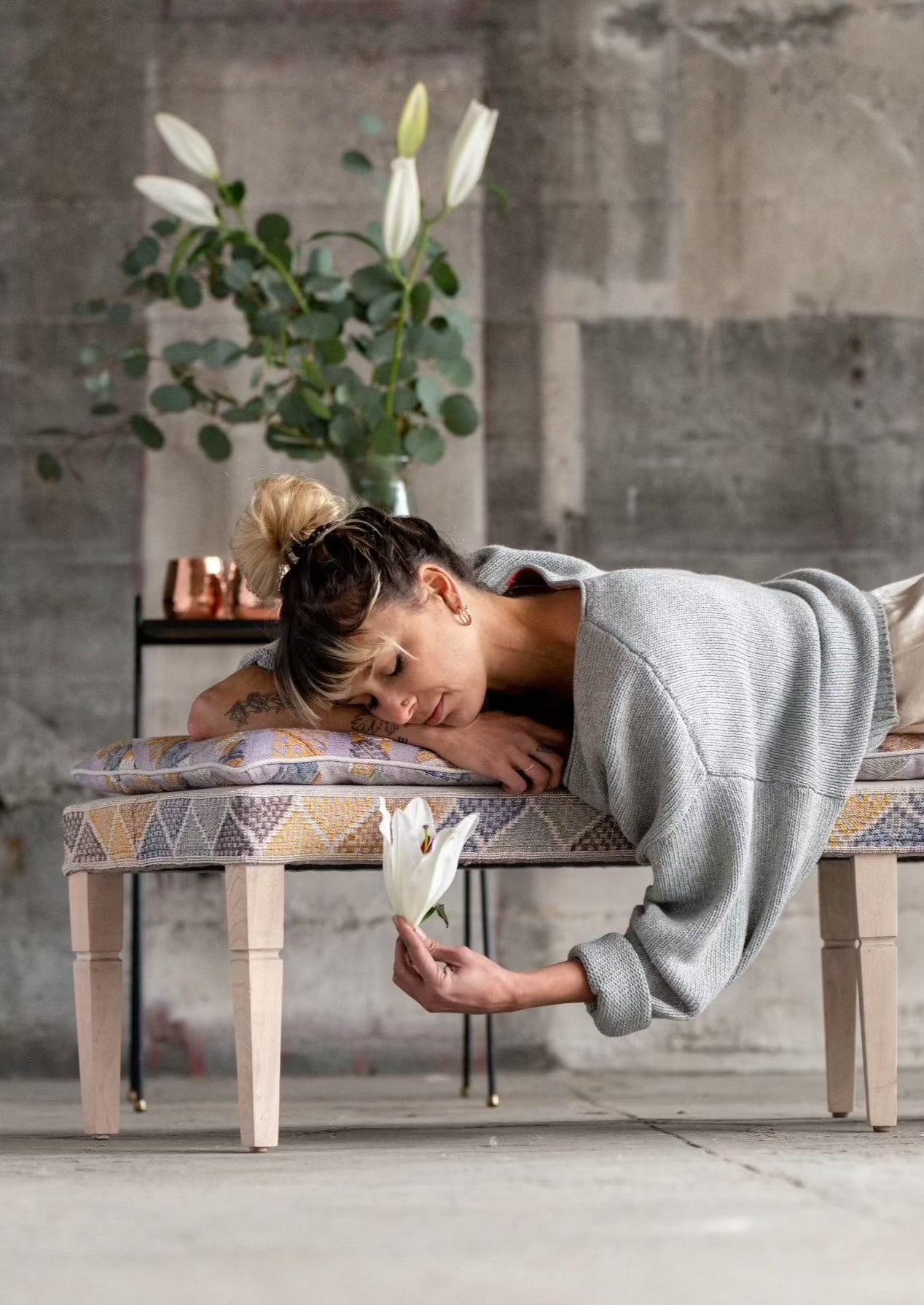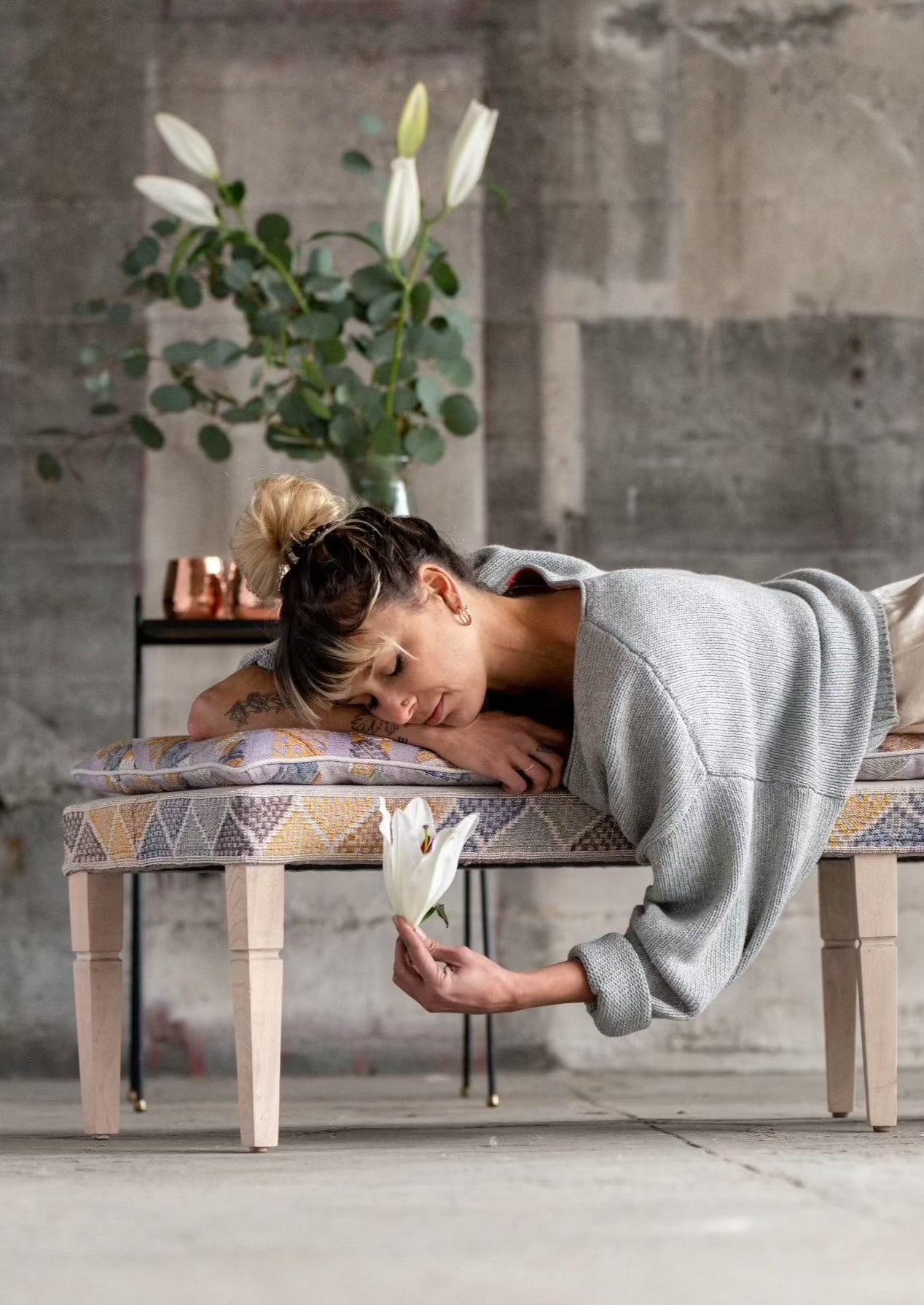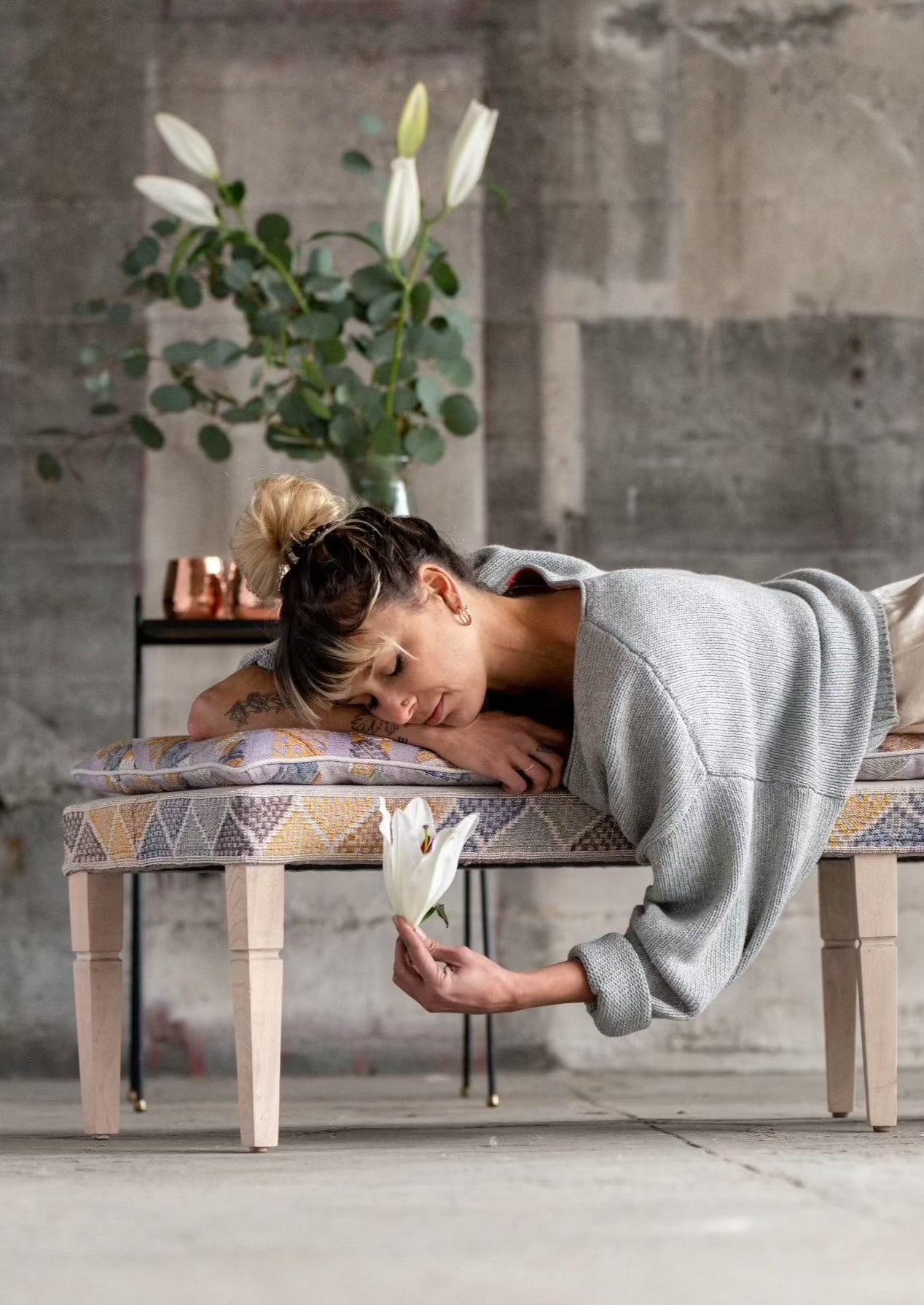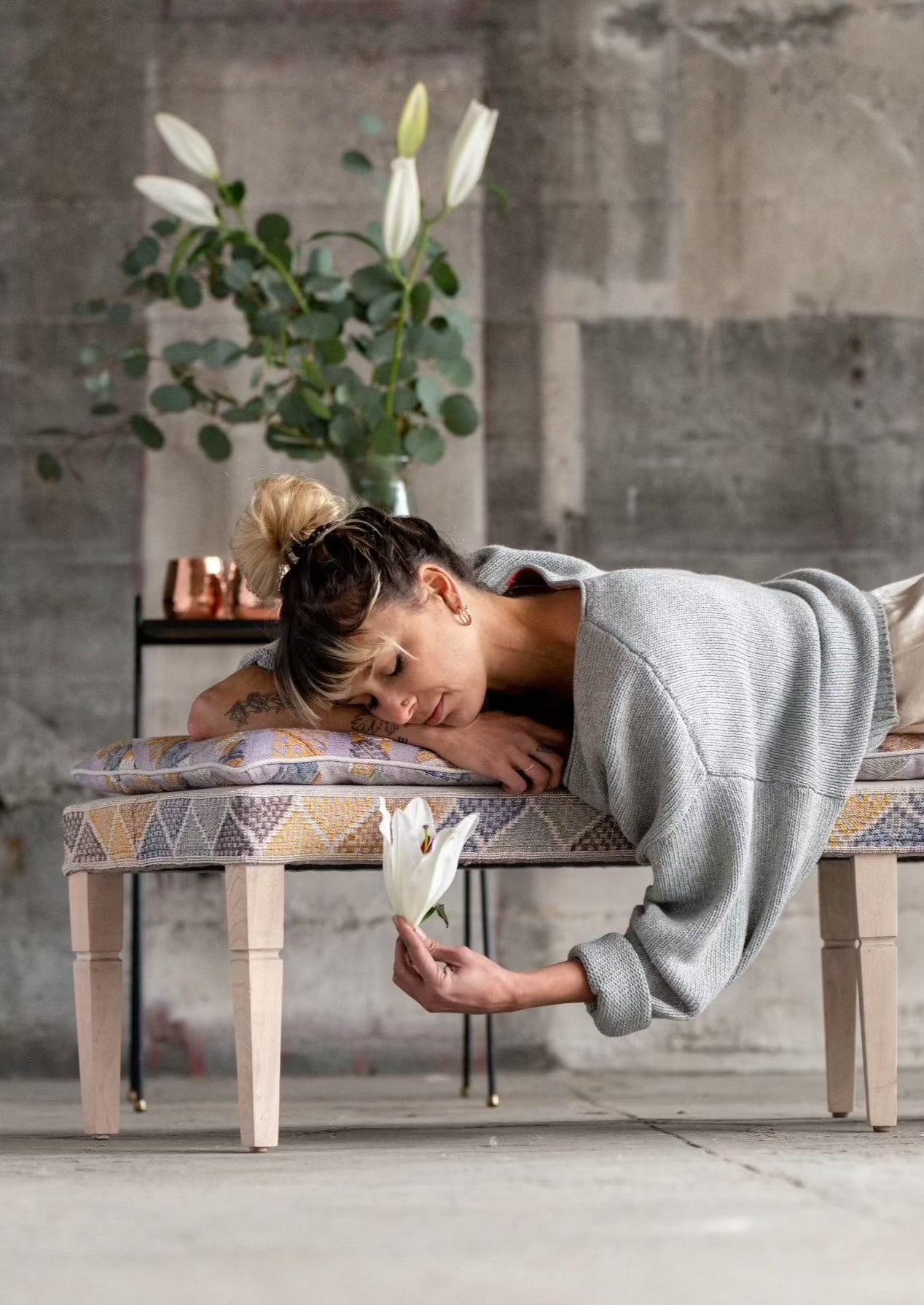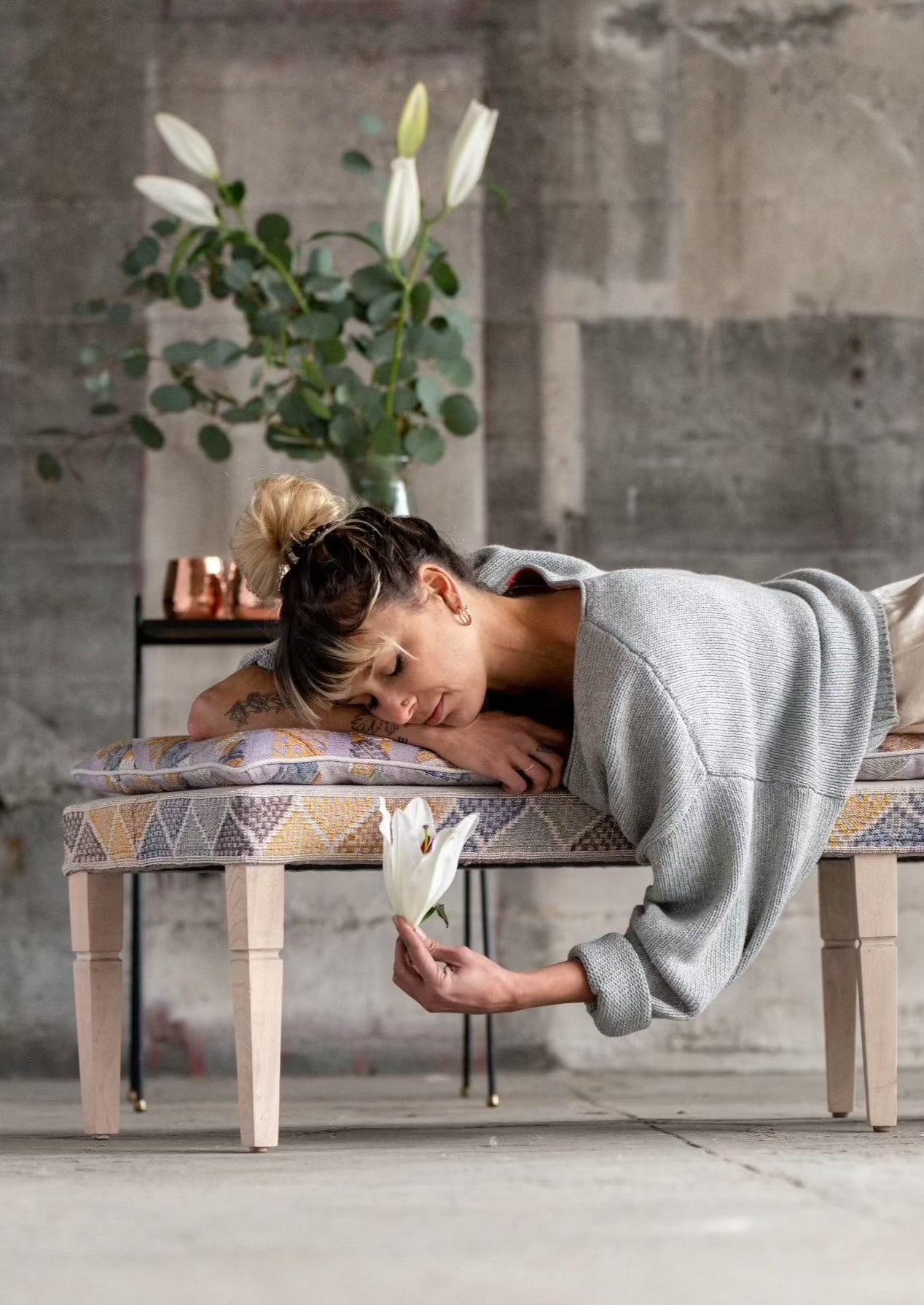 Half Moon Cactus Silk Bench
This crescent shaped bench was upcycled with an extraordinary, one of a kind, cactus silk textile of Morocco. The detail of hand embroidery alone will cast an intoxicating spell of beauty onto the beholder. If the color palate didn't catch your eye, the alluring soft rounded shape is sure to. It's a stand out, conversational piece that will inspire beauty within & without. This is a Modern Myth collaboration with Portland upholstery artisan, Anne Williams.    
Fabric: Vegan Silk, Saba, Cactus silk. A plant fiber, made in morocco from cactus fibers, soft and cooling to the touch. Flat weave.  
Size: L 67" x D 16"   
Contact for shipping details if not in the Portland area 
Photo taken by Josh Chang / Location Urbanite
Stuff You Want to know
We upcycle furniture and upholster it with timeless heirloom Moroccan textiles. This is a zero waste process so you can feel guilt free while lounging in your one of a kind Modern Myth furniture.
We work in collaboration with ADF, a locally owned female brand in Portland OR and a master at her craft.
We also offer bespoke furniture services. Whether you have an antique piece you'd like us to transform, or are imagining a unique chair or daybed to warm up your home, we can help make that dream into a reality.
We offer free delivery within the Portland metro area on all furniture orders. Orders are typically delivered to your door within 3-5 days from placing your order. If you would like to have furniture shipped to you, please reach out for a quote before placing order.
Show your furniture some love with regular vacuuming. Use a low-powered setting and a brush attachment to gently remove dust and debris.
In case of spills, attend to them promptly with a clean, dry cloth. For more stubborn stains, opt for a mild detergent mixed with water and blot the affected area gently. Avoid harsh chemicals, as they may alter the color of your piece.
We offer returns on all products within 7 days of receiving your order. You can opt for a refund or store credit. The customer is responsible for the cost of shipping both ways for returned items.